This is the time of year when membership fees are due and the reminders start rolling in. It is a time when I consider whether or not to renew my membership in various organizations and what commitments I'll make in the year ahead. In particular at the start of 2021, I have been thinking about the privilege of membership in the Canadian Nurses Association.
As noted on its website, the Canadian Nurses Association (CNA) is "the national and global voice of Canadian nursing, working with nurses in all 13 jurisdictions across Canada to bring essential and meaningful change to health care and nursing in the country." Membership is open to all regulated nurses who may join as individuals or through their membership in provincial and territorial associations in jurisdictions that are CNA members. Major changes in jurisdictional nursing organizations across Canada will continue to have an impact on national membership. For the first time, I will be taking out an individual membership because the annual membership fee in my provincial association, the Nurses and Nurse Practitioners of British Columbia (NNPBC), no longer includes CNA membership. I remain supportive of NNPBC and CNA and hope that we'll see new membership models and fee structures in the coming years. Membership in CNA is a vital link to our dynamic global nursing body, the International Council of Nurses.
During the summer and fall of 2020, CNA conducted a member survey to build on dialogue and engagement sessions conducted in 2019 & 2020. For a good overview of survey results, see Your Voice, Your Association.
Survey respondents viewed CNA in a favourable way with 81% noting that a national professional association is essential. Communication is key to engagement and three preferred methods are: direct email, social media & webinars. Ideas for building a strong and effective association include:
Engage with membership on a grassroots level
Offer more mental health resources
Offer more continuing education opportunities
Forge strong partnerships with provincial and territorial associations
Highlights of the past year – shaped so dramatically and sadly by the pandemic – were linked to my longtime interest in professional associations and their role in policy advocacy clearly in evidence during 2020. It was satisfying to be a co-author with stellar colleagues, Patrick Chiu and Susan Duncan, on an article published in the Canadian Journal of Nursing Research:
Charting a Research Agenda for the Advancement of Nursing Organizations' Influence on Health Systems and Policy – Patrick Chiu, Susan Duncan, Nora Whyte, 2020 (sagepub.com)
In our abstract we indicate how we drew on "recent key national and global events including our systematic inquiry into Canada's 2019 federal election, the Year of the Nurse and Midwife, and the Coronavirus pandemic to examine how Canadian nursing organizations respond in highly complex and evolving contexts." Further, we used our observations to offer a vision and chart a research agenda for the advancement of nursing organizations' influence on health systems and policy.
Another highlight that took place at the end of 2020 was receiving a Lifetime Achievement Award from NNPBC at a wonderful virtual 2020 Nursing Awards of Excellence Ceremony featuring music, dance, videos, and special messages from CNA and others. It was an emotional and proud moment to be among the group of BC nurses recognized for contributions to the profession in our province.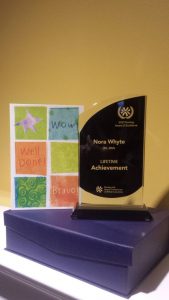 I look forward to staying connected to nursing's collective presence and voice provincially, nationally, and globally in 2021.
By Nora Whyte – January 19, 2021
I acknowledge with respect that I live on the Unceded traditional territory of the K'òmoks First Nation.
Postscript: February 21, 2021
For nurses from BC, the process of membership renewal in CNA was delayed at the start of this year. I was unable to renew in January as planned. Glad to see that the membership portal is working now and that we can renew or rejoin as BC registrants or retired members. Annual membership gives us access to the Canadian Nurse and opportunities to participate in our national association and the ICN. In fact, to submit an abstract (as first author) for the ICN Congress in November, one must belong to a National Nursing Association. I'm thankful that CNA is a member of ICN and that's one of my primary reasons for renewing my CNA membership.