ICN Congress
A highlight of 2021 was the opportunity to participate in the International Council of Nurses (ICN) Congress, held in a virtual format for the first time. The ICN Board and Staff team along with congress partner Emirates Nursing Association did an outstanding job of hosting the three-day event attended by 5,000 nurses and guests from around the globe. Speakers and participants added to the richness of the discussions on key topics relevant to nursing today and conveyed the sense of urgency on workforce issues and equity in global health. Among the important documents discussed was the Global Strategic Directions for Nursing and Midwifery 2021–2025 released in April 2021 by the World Health Organization. Four focal areas for health systems – education, jobs, leadership and service delivery – were important strategic directions covered in congress sessions.
I enjoyed the daily keynote presentations and the continuity provided by ICN leaders who conveyed the enthusiasm and spirit I had experienced at past congresses. However, I did miss the informal social gatherings and memorable encounters with nurses from other countries at congresses in Singapore (2019), Barcelona (2017) and Durban (2009).
Prior to the congress, I was pleased to continue my collaboration with Patrick Chui and Susan Duncan in planning a presentation delivered by Patrick as a pre-recorded oral concurrent session. The presentation drew on previous work and explored policy advocacy leadership by Canadian nursing organizations using a current example of COVID-19 vaccine equity. We discussed ways in which nursing organizations demonstrate policy advocacy leadership in highly complex and evolving contexts. In our conclusion we proposed areas of research that will be useful in generating knowledge to strengthen nursing organizations' influence on health systems and policy.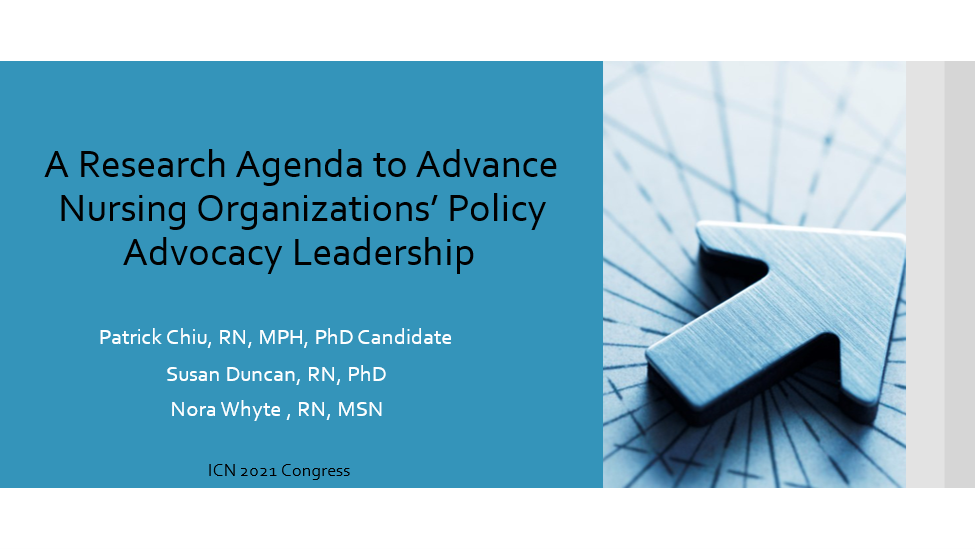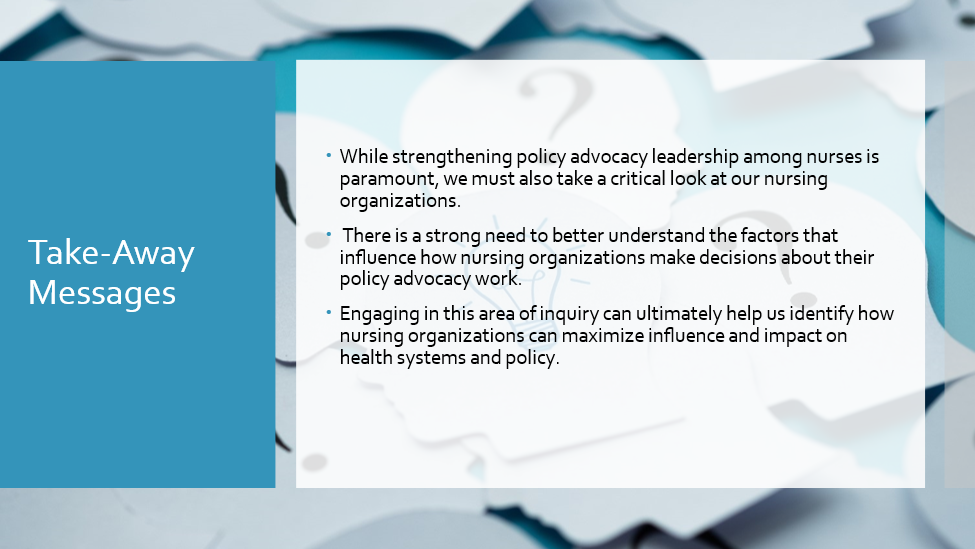 Professional Development Highlights
Webinars were the way to go for professional development this year. I enjoyed sessions organized by the Canadian Nurses Association throughout 2021 and the Annual Marion Woodward Lecture hosted by UBC School of Nursing in November. A stimulating session in December was hosted by the International Collaboration for Community Health Nursing Research (ICCHNR): Dr. Barbara Stilwell delivered the annual Lisbeth Hockey Lecture on The Power of the Nursing Narrative. I liked Barbara Stilwell's call to nurses: "Let's power together" as she concluded her lecture. Thank you to the organizers and speakers for contributing to my learning and thinking during the past year.
A New Roadmap
Looking to this new year and beyond, the WHO Regional Office for Europe has published Building Better Together: Roadmap to Guide Implementation of the Global Strategic Directions for Nursing and Midwifery in the European Region.  As noted in the foreword by Hans Kluge, WHO Regional Director for Europe, "…we will work over the next five years to ensure that nurses and midwives have the capacity to contribute to key areas of public health, primary care, long-term care and post-COVID-19 recovery. We will put this into practice through relevant education, improved working conditions, the promotion of leadership opportunities and clear career pathways." (WHO, 2021, p. v).  Taking into account regional and global policy contexts, it lays out key directions and monitoring mechanisms.  It's an excellent resource that may serve as a guide for other regions to follow.
I end my year in review comments with a special note of appreciation to all the colleagues who continue to involve me in fascinating projects and who stay in touch through regular email exchanges and on social media. Thank you to my Twitter followers!
By Nora Whyte – January 4, 2022
I acknowledge with respect that I live on the Unceded traditional territory of the K'òmoks First Nation.